North North Branford's Preferred Interior & Exterior Painters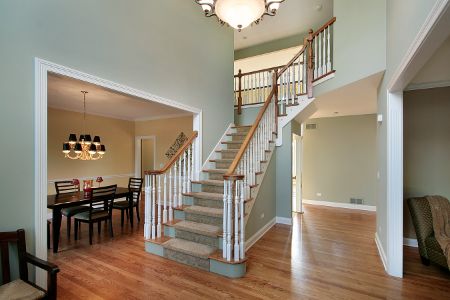 For over 2 solid decades the professional Painter contractors at Top Coat Painting LLC have provided home and business owners with first rate painting. We offer a wide range of services including interior painting, exterior painting, power washing and ongoing maintenance. We specialize in both residential and commercial painting projects. Whether your building your first home or need your current home renovated with a fresh coat of paint, you can depend on our North Branford Painting Contractor for fast service, affordable rates, and work of the highest quality. We take pride in every project we do and work hard to achieve your absolute satisfaction every time.
Dependable Power Washing
If you've ever tried cleaning your home exterior, you know what a headache it can be. The solutions is power washing from Top Coat Painting LLC. We take the work out of cleaning your home with our superior power washing service. We offer both high pressure and softwashing options in order to clean any surface without damaging the finish. This allows us to clean any number of items outside including roofing, vinyl siding, brick, stone, wood decks, hard plastic, and driveways. No matter how dirty your surface is, we can restore back to looking like new once again.
Creative Commercial Painting Solutions
Business remodeling is always a challenge. At Top Coat Painting LLC, however, we make painting your business easier than ever. We offer flexible scheduling that works around your business hours, non-intrusive work so your employees can do their jobs, and affordable rates that stay within your company's budget. As business owners ourselves, we understand the specific needs of business owners and work hard to earn your trust and create a product that makes a first and lasting impression for your business.
Complete Paint Maintenance For You
At Top Coat Painting LLC we go the extra mile by giving you ongoing paint maintenance after the job is done. Our Maintenance Program is a practical solution for keeping your home or business interior looking good at all times without the headache of a new paint job. We inspect your property for areas that need a quick touch up. This may include paint that is faded, dirty, chipped, cracked, or is bubbling from moisture. Our touch up service is quick and inexpensive. Call a Top Coat Painting LLC technician today and find out more about how our program benefits you.
Interior Painting For Your Home
If you want a truly unique experience, then check out what Top Coat Painting LLC can do for you. Whether it's your bathroom, bedroom, kitchen, or living room, we can help you revitalize your entire room environment in no time at all. Our focus is to help you pinpoint exactly what you want the room to look like and how a new paint job can help you reach that goal. Once you choose the right colors, we go to work to prepare your walls. We remove the old paint, make any necessary repairs and fill in all the holes and cracks, sand down the walls, and then apply the new colors. You get the benefit a brand new wall palette that looks sharp and makes a lasting impression.
Exterior Painting Service
Improve your home's curb appeal with a new coat of paint from Top Coat Painting LLC. We strive to bring a certain uniqueness to every home we paint. Your North Branford home is one of your greatest financial investment, so it's important to make sure the job is done right from professionals who are the best in the business. We never cut corners or take shortcuts, be we recognize the value of every single home we paint. We use exterior paint of the highest quality that will withstand the outside elements such as rain, sunshine, wind, and humidity. You can be as creative as you want with our certified experts and make your home stand out.